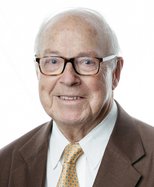 Blix Hans
Ambassador (former Director General of the International Atomic Energy Agency); Ph.D. (Sweden)
Hans Blix was born in 1928 Uppsala, Sweden.
He studied law at Uppsala University and Columbia University and earned his Ph.D. from the University of Cambridge (Trinity Hall). In 1959, he became a Juris Doctor in International Law at the University of Stockholm, where he was appointed Associate Professor in International Law the next year. He has several honorary doctorates, including one from Moscow State University (1987) and one from Cambridge (2007) and he is a recipient of the Henry de Wolf Smyth Award (Washington, DC, 1988).
From 1961 to 1981 he was a member of the Swedish delegation to the General Assembly of United Nations and between 1962 and 1978 Hans Blix was a member of the Swedish delegation to the Disarmament Conference in Geneva. He held several other positions in the Swedish administration between 1963 and 1976. From 1978 to 1979, Blix was the Swedish Foreign Minister.
Hans Blix chaired the Swedish Liberal Party's campaign during the 1980 referendum on nuclear power, campaigning in favor of retention of the Swedish nuclear energy program.
Hans Blix was the Director General of the International Atomic Energy Agency between 1981 and 1997, succeeding Dr. Sigvard Eklund.
During his tenure at the IAEA the Chernobyl disaster occurred on 26 April 1986, and he helped to shape the Agency's response to strengthen nuclear safety, including the adoption of new international conventions and the IAEA's International Nuclear Event Scale.
After the 1991 Gulf War Hans Blix led the IAEA initiative to strengthen the safeguards system and the Additional Protocol was adopted in 1997, the year that Blix retired from the IAEA.
In 2000 Hans Blix was called back from retirement by UN Secretary General Kofi Annan to lead United Nations Monitoring, Verification and Inspection Commission in charge of monitoring Iraq and he was responsible for the inspections that took place in 2002 and 2003 before the invasion of Iraq.
On his return to Sweden in 2003 Hans Blix was asked to form and chair the Weapons of Mass Destruction Commission (WMDC), an independent body funded by the Swedish government and based in Stockholm. It presented its report in 2006.
Blix remains active in the fields of disarmament and the peaceful use of nuclear power. He is a member of the Supervisory Council of the Luxembourg Forum on Preventing Nuclear Catastrophe.