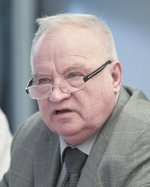 Esin Victor
Research Professor at the Center for Advanced Studies of National Security of Russia, Expert Institute of the National Research University «Higher School of Economics»; First Vice-President of the Academy of Security, Defense and Law and Order (former Chief of Staff – First Deputy Commander-in-Chief, Strategic Missile Forces); Professor, Ph.D.; Colonel General (retired) (Russia)
Viktor Esin was born in Moscow on February 14, 1937. In 1961, he graduated from Dzerzhinsky Artillery Academy as mechanic engineer, and in 1983, he got a degree in command and staff and operational strategic activity at Marshal Voroshilov Military Academy of the WPRA General Staff. Since August 1959 г. till December 1996 served in Strategic Rocket Forces. Former Chief of Staff and Vice Commander-in-Chief of the Russian Strategic Rocket Forces. Has a military rank of colonel general.
Between December 1996 and February 2002, Esin worked at the Presidential Administration of Russia: first in the administration of the Defence Board, and later in the administration of the Security Council. Since March 2002, he has served as a consultant of the Commander of Strategic Rocket Forces. He is aformer Chief of Armed Service Staff – First Deputy Commander-In-Chief, Strategic Rocket Forces); Ph.D.; General-Colonel, ret. (Russia).
Esin has worked in the Institute of the United States and Canada of the Russian Academy of Sciences as a leading researcher since July, 2002. He is a Professor of Military Science at the Russian Academy of Military Science, and his research interests include international security, disarmament and arms control.