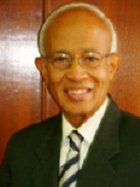 Rao Raghavan Vasantha
Director of the Delhi Policy Group; President of the Centre for Security Analysis; Lieutenant General, retired (India)
Lt Gen (Retd) VR Raghavan is President, Centre for Security Analysis, Chennai. He is a member of India's National Security Advisory Board. He is also a member of the Task Force set up by the Government of India to Review National Security.
After a distinguished career in the Indian Army, where he was decorated on three occasions, he retired as Director General of Military Operations. His combat experience includes operations in wars with Pakistan and China and in counterinsurgency campaigns.
The General was an elected member of the Council of United Services Institution of India and was Council Member, International Institute for Strategic Studies (IISS), London. He was also member of the Committee to review the Armed Forces Special Powers Act. He was a Commissioner of the Weapons of Mass Destruction Commission chaired by Dr Hans Blix and also advisor and research consultant to the International Commission on Nuclear Non-Proliferation and Disarmament convened by the Governments of Australia and Japan.
He was Visiting Fellow at Centre for International Security and Cooperation (CISAC), Stanford University and Henry L Stimson Centre. He has directed many research projects in the fields of comprehensive security, nuclear restraint, disarmament & non-proliferation and peace & conflict studies. He has authored books amongst which, the monograph, India's Need for Strategic Balance; essay on Limited War and Nuclear Escalation in South Asia and Siachen-Conflict without End are widely known. He has edited more than thirty books.